Note: The first edition of Finding Joy in the Morning is out of print. Go here for details on the updated and expanded second edition.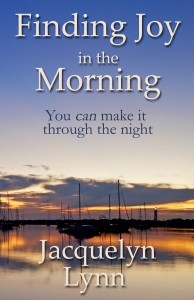 Jacquelyn Lynn shares how to face seemingly insurmountable challenges with strength and resilience, and enjoy incredible peace during some of life's toughest times.
This is not a self-help book, this is an I-can't-do-it-alone book.
Click here to purchase on Amazon
Kindle version $3.99
Print version $7.95
Finding Joy in the Morning shows you how to surrender the natural human proclivity to try to be in control so that you will know the peace and find the joy that comes with knowing God is always with you and always in control. You'll learn what faith is – and isn't; how to live in the moment and avoid worry; the importance of forgiveness; why you need to regularly exercise your spiritual muscles and how to do it; and how to deal with problems and challenges.
The book includes a prayer and a "Your Turn" section at the end of each chapter. It's designed to be read individually or used as a group study.
If you'd like to use Finding Joy in the Morning for a group study, click here to download a free copy of the Leader's Guide and to receive a discount code for bulk purchases of the print version.
Available now! Click here to purchase on Amazon. Out of print.
What readers say about Finding Joy in the Morning:
"I love the straightforward simplistic nature of this book. It is an easy read, yet deeply profound at the same time. I love the 'stop and pray with me' sections and the questions at the end of the chapters. It's a wonderful book that will help many people to understand who they really are in God's eyes and how they can have a deeper and more meaningful relationship with Him."
Sandi Vidal
Executive Director, Christian HELP
Finding Joy in the Morning guides readers through troubling times using faith-based suggestions, such as believing and obeying, seeing problems as gifts, living in the moment, and practicing forgiveness. The author includes related quotes, prayers, and "Your Turn" ideas, which are interactive questions for readers to apply these concepts to their own lives. The writing is clear, crisp, friendly, and professional, making this work the perfect follow-up to Jacquelyn Lynn's earlier book, Words to Work By: 31 devotions for the workplace based on the Book of Proverbs.
Leslie C. Halpern, Author
Passionate About Their Work: 151 Celebrities, Artists, and Experts on Creativity
"I loved it. I wish everyone in my church could read it!"
Kim Schuh
"This is a book for anybody to read, but especially those who label themselves Christians. Those of us who are trying to grow in our faith will be encouraged and gain workable ideas about keeping that faith alive and thriving. Those who just attend church and think that is sufficient should be inspired to put into action one or two of your many suggestions."
Ruth Ford
"As I began reading Finding Joy in the Morning I felt relaxed, clear-headed and happy. This book was guiding me to understand how I can be closer to God and be able to solve many more issues in my life."
Susan Boylston Adams
"I really enjoyed reading Finding Joy in the Morning, it was an easy read, very thought-provoking, uplifting and inspirational. I would highly recommend it to both my Christian and non-Christian friends."
Susan Harrison