10 Publishing Myths: Insights Every Author Needs to Succeed
W. Terry Whalin
Morgan James Publishing
The best source for information is someone who has "been there, done that"—and when it comes to publishing, W. Terry Whalin has been there, done that, and generously shares what he knows in 10 Publishing Myths.
I wish this book had been available before The Simple Facts About Self-Publishing was finished—if it had, I would have referred to it in my book. I've listed it as a recommended book on my resources page.
If you're thinking about writing a book or if you've written one and are struggling with the publishing process, 10 Publishing Myths will answer your questions, tell you how the business works, and give you clear action steps to increase your chances of a successful writing career.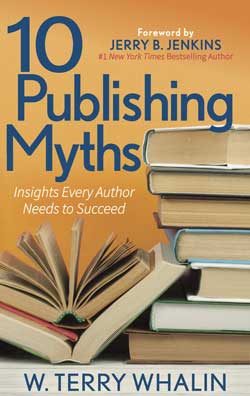 Wherever you are in your writing career, this book is worth reading. Because I've been writing professionally for more than three decades, I've shared many of Whalin's experiences. Even so, I finished this book with some good ideas and actions to take to promote my own books and increase sales.
This is a quick, easy read. Whalin states the myth then explains why it's a myth, what the reality is and how you can make the best of the reality.
All ten myths are important, but my two favorites are: One "I Will Make a Lot of Money Writing My Book" (I wish!) and Ten "The Life of a Writer is Glamorous" (I'm glad it's not). The reality is that most books don't make a lot of money and a writer's life isn't glamorous.
Does that mean you shouldn't write and try to publish a book? No. In fact, if you follow Whalin's advice, you'll significantly increase your chances of a successful book.

Latest posts by Jacquelyn Lynn
(see all)