This skinny book is fat with great information for all writers—whether writing is your full-time job or a part of your professional responsibilities.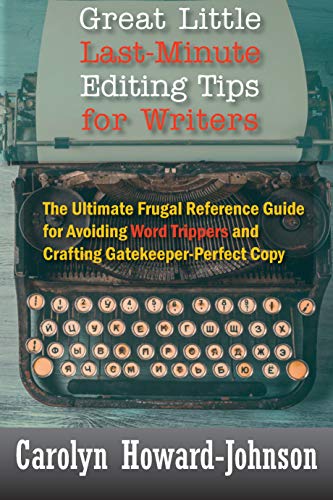 Great Little Last-Minute Editing Tips for Writers is an addition to Carolyn Howard-Johnson's earlier book, The Frugal Editor. The core of this little book is a list of what Howard-Johnson calls "Trip-You-Up Words"—those errors that creep into our writing either because we typed them wrong but spellchecker didn't catch it, or we didn't know we were making a mistake.
What makes the book a fun read is Howard-Johnson's style. This isn't a dry glossary of definitions; it's a conversation with an editor who genuinely wants your work—whether it's a novel destined for the bestseller lists or an email to your mom—to be accurate and clear. In addition to explaining what the words that tend to trip us up mean, Howard-Johnson offers practical tips for testing yourself if you're not sure you're using the right word.
While the target audience for Great Little Last-Minute Editing Tips for Writers is writers who are pitching their manuscripts to editors (which explains the mention of gatekeeper in the subtitle), anyone (including self-publishers, staff writers, and anyone who appreciates correct word usage) can use the information in this book. Get a copy for yourself and as a gift for the other writers in your life.

Latest posts by Jacquelyn Lynn
(see all)