Priceless: A Devotional Cookbook Based on Proverbs 31
Vickie Burns
Redemption Press
Devotions, reflections, a prayer journal, menu plan and recipes—all carefully crafted and blended to help the reader move closer to becoming a Proverbs 31 woman.
Blending a devotional with a cookbook is a charming and challenging idea, and Vickie Burns does it well.
The devotions are heartwarming and thought-provoking. The menus are familiar, pulling together ingredients you likely already have in your kitchen. The recipes are simple and easy to prepare, even when you're tired.
You might be put off by the price of this book, but if you work through each devotion, it's worth it. And Priceless also makes a great gift.

About the Book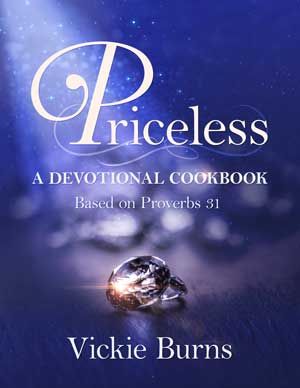 Book: Priceless
Author: Vickie Burns
Genre: Devotional/Cookbook
Release Date: November, 2019
Priceless: A Devotional Cookbook Based on Proverbs 31 is a Bible study and cookbook combined. The author, Vickie Burns, takes the reader verse by verse through Proverbs 31, showing them how precious and loved they are. At the end of each day's study, meal suggestions and recipes are provided to fill their homes with tantalizing aromas and great food. Even young children can help with meal preparation so they learn that dinner doesn't just magically appear on the table.
For women who've read Proverbs 31 and felt inadequate, like they could not possibly live up to God's description of the perfect woman, Priceless reveals that they have more in common with her than they ever imagined.
"Today's busy mom rarely finds time to steal a few moments of peace and quiet to spend with the Lord each day," Vickie says. "On top of that, she most likely does not take the time to flip through endless sections of cookbooks to plan a unique evening meal. Priceless encourages women to view their tasks as God's call to an abundant life, empowers them by providing a daily word from Proverbs 31, and eases their minds by providing a full menu for the evening meal each day."
Click here to get your copy.
About the Author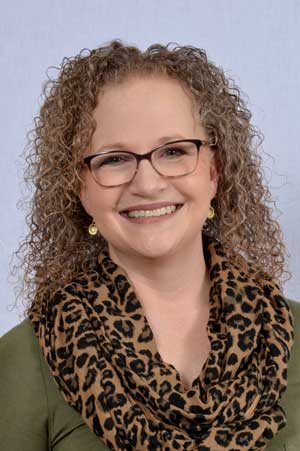 Vickie Burns is passionate about showing women how to love and live the abundant life that Jesus Christ offers. Through Bible study, public speaking, and writing inspirational cookbooks, Vickie inspires women to love the Lord with all their hearts, minds, souls, and strength; to see and love themselves as Christ does—PRICELESS; and to love others through genuine hospitality. She lives in Texas with the love of her life, Todd Burns, and they have two daughters.
More from Vickie
This book, Priceless, is not my story but it was birthed from it. I was raised in a single-parent Christian home after my parents divorced. I watched my mom handle everything: cooking, cleaning, bills, homework, a full-time job, etc. I had no idea until I became a wife and mother all that she must have been through while raising three children on her own. I do know that she had a strong relationship with the Lord and that she had friends and family support.
Today, I look back at my childhood with renewed respect for my mom. My husband, Todd and I did our best to raise our two girls to honor the Lord while we went to school for our master's degrees and tried to keep our household running smoothly. I had the help of a husband and was still overwhelmed while working as a teacher, trainer, coach and administrator in public education. On top of that I was still a wife, mother, friend, sister, chef, chauffer, nurse and more. Over the years, as I have gotten to know other women, I realize that I am not alone. We all long for ways to balance work and family, cooking and cleaning, physical busyness and spiritual warfare.
As my heart broke for the busy women in my life (to whom I totally relate) I longed to try and make life a little easier for all of us. I began to study God's Word for answers. As I studied, I learned that God created us for relationship with Himself and with others. I learned that sharing our burdens with one another is His design. I found out that love should drive every word and action as we relate to others. I discovered that the crazy life that we are trying to balance is actually our ministry to our families and communities. I also realized that hospitality isn't just something that was dreamed up by Martha Stewart. God ordained hospitality from the beginning when He created Adam and Eve in His image and placed them in the garden of Eden. God touches the heart of mankind with a piece of His own. There are examples of this throughout scripture. The biggest deposit of God's heart within us is the gift of His Spirit. This gift is what makes genuine hospitality possible today. When we touch another person's heart with a piece of our own, we are showing hospitality, sharing the love of Christ, and making connections that impact our world. This revelation was the birth of my ministry. I call it The Heart of Hospitality. Through my writing and speaking engagements, I share with women how to see the tasks and responsibilities of our daily lives as a calling from God. Beyond that, I help women understand that viewing their lives in this way is what Jesus meant when He said He came to give us "abundant life".
My prayer for you, as you read this book is:
that you will be touched with a piece of God's heart.
that hospitality will come to mean something new to you.
that each devotion in this book exposes your pricelessness in Christ.
that you will know beyond the shadow of any doubt that you are rare, unique and have significant meaning to your Creator.
May God richly bless you and your household.
When people hear about my Job-like experience with the modern-day Cinderella story ending, I often hear remarks like "WOW, that should be a movie!" It has been six and a half years of full-on redemption and restoration and, honestly, I still pinch myself to make sure I'm not dreaming this!
After 12 years of spiritual abuse that left me a shell of a person, devastated and distraught, I began a breathtaking journey of healing for all the loss I'd endured. The loss of my 18-year marriage, destroyed relationships with my adult children, the death of my well-known publishing company and destruction of my career, along with the fatality of my credit score as I lost my home, my income, and all material things that meant anything to me. Those 12 years of deception cost me big time, but we serve a Romans 8:28 God who uses all things, even that, for good.
I'm on the other side now, healed and restored, proclaiming the faithfulness of a God who used what the enemy meant for evil … for good!
I love the creativity He uses in the redemption process … to think He would allow me to be a pastor's wife now … hand-picked by my pastor-hubby's late wife of 49 years … with restored relationships with my adult children and grandchildren … to be a radio show host interviewing authors whose stories ring of the faithfulness of God … to steward well another publishing endeavor called Redemption Press … so many full circles where God's sovereignly connects the dots and brings insight that mends my soul.
I'm excited to share my story with you, to be authentic and transparent, and to reflect the glory of God. I pray that you're encouraged by all that God has done, and that you're left with a healthy dose of hope in His faithfulness and His ability to bring good out of bad, every time.
And now, I'll leave you with an inviting peek into some trivia about my life…
My Uncle Skeeter is a famous actor, James B. Sikking. Known for his part as Howard Hunter on Hill Street Blues and Doogie Howser's Dad.
When I was 14 years old, I owned 7 horses and showed most of them in horse shows across the country, with my last official show being Madison Square Gardens.
I absolutely LOVE Vizslas…also known as Hungarian Pointers…I've had 2 of them over the last 14 years and am addicted. They are THE COOLEST dogs!
I used to work for Helen Reddy, as an administrative assistant to her manager/husband, and before that, for the manager of Rufus & Chaka Khan when they recorded their first hit, Tell Me Somethin' Good.
My Grandma's house overlooked the Santa Monica beach and originally belonged to the silent movie star, Mary Pickford.
When I was five years old, my grandma, Dr. Sue Sikking, was the honored guest on the popular TV show "This is Your Life" with host Ralph Edwards. I was part of the cast when our family surprised her with our attendance, and fervently tugged on Mr. Edwards suit jacket to try to get his attention!
Blog Stops
Vicky Sluiter, January 1
For Him and My Family, January 1
Debbie's Dusty Deliberations, January 2
Truth and Grace Homeschool Academy, January 3
Jacquelyn Lynn, January 3
Older & Smarter?, January 4
Texas Book-aholic, January 5
Mary Hake,January 5
janicesbookreviews, January 6
Abba's Prayer Warrior Princess, January 7
Inspiration Clothesline, January 7
Inklings and notions, January 8
Blossoms and Blessings, January 9
For the Love of Books, January 9
She Lives to Read, January 10
Quiet Workings, January 11
Godly Book Reviews, January 11
Book Bites, Bee Stings, & Butterfly Kisses, January 12
A Rup Life, January 13
Emily Yager, January 13
KarenSueHadley, January 14
Giveaway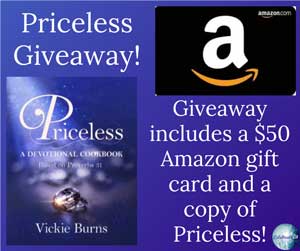 To celebrate her tour, Vickie is giving away the grand prize package of a copy of Priceless and a $50 Amazon card!!
Be sure to comment on the blog stops for nine extra entries into the giveaway! Click the link below to enter.
https://promosimple.com/ps/f425/priceless-celebration-tour-giveaway

Latest posts by Jacquelyn Lynn
(see all)