The War on Fear is winnable!
The Bible tells us to not be afraid, and yet so often, we are. But what if we weren't?
"What if fear was a tool to be harnessed and used rather than an overlord keeping us all in bondage?"
Morgan is an inspirational speaker, comedian, musician and renowned George W. Bush impersonator who has launched a war on fear that is likely to be far more successful than the war on drugs, the war on poverty or any of those other societal "wars" that we've never been able to win. He happens to have the same name as a well-known personal injury attorney—don't confuse them.
War on Fear begins with a definition of fear and a clarification of good fears and bad fears:
 "Good fear can keep us from falling off a cliff, but bad fear might keep us from climbing a mountain."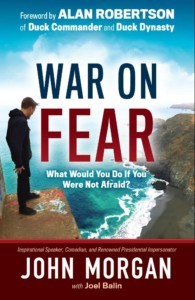 Morgan calls fear a con artist that steals our dreams, kills our passion and destroys our relationship with God and each other. Then he offers solid, practical advice for understanding how fear works and conquering it so that it works for you rather than against you.
Morgan makes his points with personal stories. He candidly shares his own faith and life journey from his youth when he ran from Christianity to becoming a Christian and committing his life to serving Christ, from working in his family's appliance store to sharing stages with internationally-known celebrities and politicians as a George W. Bush impersonator.
His recollections of major events—the 9/11 terror attack on the United States, the mass killing at the Pulse nightclub in Orlando, and others—will trigger your own memories and feelings. His behind-the-scenes tales about his work as an inspirational speaker and Dubya impersonator offer a relatable perspective of what it's like to be on those stages that most of us will never know.
War on Fear is not just amusing anecdotes and faith-based platitudes, it's sound advice and effective strategies.
I decided to buy and read War on Fear after seeing John Morgan speak and sing at a Central Florida Christian Chamber event. If you ever get the chance to see him live, do it!
War on Fear is available in hardcover ($16.99) and Kindle ($9.99) on Amazon. Go here to get your copy.

Jacquelyn Lynn is an inspirational author, business writer and ghostwriter whose credits include more than 30 traditional books, 3,000+ magazine articles, ebooks, blogs, white papers, and more.

She is the author of Words to Work By: 31 devotions for the workplace based on the Book of Proverbs and Finding Joy in the Morning: You can make it through the night. She is also the co-creator of several coloring books for adults.

Latest posts by Jacquelyn Lynn (see all)