Whether you're an author or in some other business, email is (or should be) a key component of your marketing communications.
Many authors have substantial social media followings, and that's great. But you still need to build and maintain an email list. Don't be totally dependent on the whims of any social media platform as your primary way of communicating with your readers or clients.
My email service provider is MailerLite and I can't say enough good things about the company and the people.
I have used Constant Contact and Mailchimp—both are good services, but as they grew and expanded, I was no longer their target market. My needs are too small and too simple.
In 2019, I read an article by David Gaughran, "Time to Ditch Mailchimp," that discussed the changes at Mailchimp that were prompting Gaughran and others to seek an alternative. At this writing, his lengthy, quite comprehensive post has 341 comments. To save you some reading time, I'll tell you that he chose MailerLite.
After doing some additional research of my own, I decided to go with MailerLite as well—and it didn't take me long to congratulate myself on making a great decision.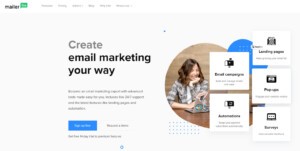 MailerLite is easy to learn; it's logical and intuitive. It offers a huge library of tutorials—short, focused videos that clearly explain a specific function. And if you get stuck on something, a real person will respond to an online chat request in minutes.
In addition to email, MailerLite offers landing pages, pop-ups, embedded forms, subscriber management, and a website builder. You can set up automated campaigns that are personalized and segmented. And that's just the basics—you can do more, and MailerLite is regularly expanding and enhancing its offerings.
Small users can get started with MailerLite's free plan (up to 1,000 subscribers and 12,000 emails per month with email support). They promise that the free plan is forever free, so if your needs don't ever go beyond that, you'll never pay.
Paid plans start at $10 per month with a 30 percent discount if you pay annually. The service grows with your needs.
My list is still relatively small (although you're welcome to help me grow it by subscribing to my weekly Shareable Saturday emails), but MailerLite's support team treats me like I'm the most important customer they have.
Go here to use my affiliate link to subscribe for free; if and when you upgrade to a paid plan, using my link will earn you $20 off your first payment.
Go here for a complete list of the resources we use and recommend.

Latest posts by Jacquelyn Lynn
(see all)