We uploaded a video to YouTube and were shocked when someone immediately lodged a copyright claim against us for the music we used.
We have written before about how important it is to either own or acquire the rights to use the material on your website. The same applies to anything you post online, including videos on YouTube.  It's the ethical and legal thing to do and it's the standard by which we operate for ourselves and our clients.
So you can imagine how we reacted when we were accused of using copyrighted music without permission. Here's the story: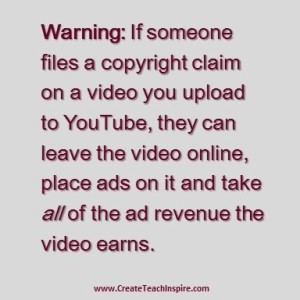 Earlier this year, we produced a short video that was designed to promote our video production capabilities and generate some residual income. To set the right tone for the video, we needed some music that was peppy but didn't overpower the visual image.
I looked through the royalty-free music in our files and found the perfect clip. It was "Lawn Barbecue," a short, upbeat Bluegrass tune. I had purchased the rights to use it last year from Sony Creative Software's Sony Sound Series/Production Music. With the music track added, I uploaded the final product to our YouTube channel.
Immediately after the upload was complete, we received a notification from YouTube that there was a copyright claim on the music clip. The claim had been filed by a company known as Audiam on behalf of the Organic Music Library for a music clip entitled "Jubilation."
Filing a copyright claim on media uploaded to YouTube allows the claimant to do one of three things:
(1) they can take down the entire video;
(2) they can strip out the entire soundtrack (or just the portion in question); or
(3) they can leave the video intact, place ads on it and have the entire proceeds from those ads directed to themselves.
The entity uploading the video (in this case, Tuscawilla Creative Services) is prevented from deriving any income from it even though the element in question represents a small part of the total.
Audiam elected to leave our video intact and place ads on it – ads we had no control over and would receive no revenue from.
That was unacceptable, so I launched an investigation to figure out what happened, why Audiam was claiming the rights to music I had purchased from Sony and what our options were.
I searched the Organic Music Library website for the piece of music they were calling "Jubilation." To my surprise, I found it listed among hundreds of other tunes. The contributor was listed as David Lawrence.
To my even greater surprise, when I listened to the "Jubilation" clip, it was (to my ear) identical to the clip I had purchased called "Lawn Barbecue" – not just the same melody, but the same recording.
Armed with this information, I disputed Audiam's copyright claim with YouTube. I provided all the information my research revealed along with the confirmation number for my purchase of the rights to "Lawn Barbecue" from Sony.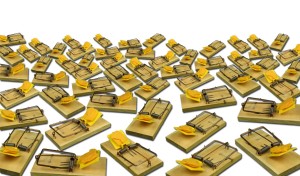 After about ten days, I received an email from YouTube with this terse statement: "After reviewing your dispute, Audiam (Label) has decided that their copyright claim is still valid." Interesting. And frustrating. I felt like I was trying to walk through a room full of baited mousetraps.
My next step was to send Sony a long email explaining the situation and asking them to either forward any evidence indicating that Sony/ATV Music Publishing actually owns the music clip as stated in their end user licensing agreement (EULA) or to refund my purchase price.
Sony responded, saying that my information and questions have been forwarded to the proper department, that they will investigate the situation and that they will let me know what they find.
Who really owns this particular music clip and has the authority to license the rights to end users? We don't know yet.
Stay tuned. We'll provide updates as this situation unfolds.
If you've had a similar experience, please share your story.

Latest posts by Jerry Clement
(see all)