Veterans Day marks the anniversary of the end of World War I, when major hostilities ceased at the 11th hour on the 11th day of the 11th month of 1918. It has evolved into a holiday that celebrates the service of all veterans (different from Memorial Day, which remembers those who died in service).
I served in the Women's Army Corps in the early 70s during the Vietnam war. I was stationed at Walter Reed Army Medical Center in Washington DC.
It was an interesting period in history. Peace, love and rock 'n roll were clashing with an unpopular war and some revolutionary societal changes. And I wasn't exactly a model soldier. I loved my country (and still do), but I'm not cut out for the structure of the military.
I worked on the administrative side of the base as a personnel clerk, not part of the medical service, but I still had some interaction with patients. Daily I saw demonstrations of amazing courage and patriotism among the wounded and recovering, as well as their caregivers, even in the face of open hostility from some civilians. It was not an easy time to be in the service.
When we observe Veterans Day, we are not just remembering the fallen, we are celebrating all those who served in the armed forces.
Those who were never put in harm's way.
Those who went to war and came home.
And those who gave their lives.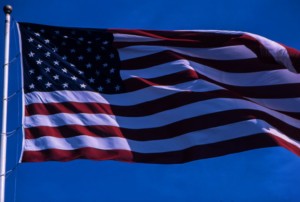 It is because of veterans, because of the brave men and women who step up to defend our freedom and our values, that we are able to enjoy the lives that we do. It is because of their sacrifices, their willingness to serve, that we enjoy the luxury of worshiping freely, of openly proclaiming our faith, of speaking our minds, of challenging our government, of exchanging information and ideas, and so much more.
My own service wasn't a big deal. In fact, I know I received far more from it than I gave. But I am so grateful for every veteran who ever put on the uniform and all of those who will join one of the armed forces in the future. I hope we can preserve the country those good men and women have served.

Latest posts by Jacquelyn Lynn
(see all)