Do you have a video marketing strategy? If you don't, you should.
According to Hubspot (makers of inbound marketing software), video should play a central role in your outreach and campaign efforts. More than half (54%) of consumers want to see videos from brands they support in comparison to email newsletters (46%). Hubspot's research also found that branded video content was the most memorable when compared to branded photo, written and audio content.
Use these tips to create videos that will achieve your goals:
1. Be concise. Tell your story in as few words as possible. Be comprehensive but brief. Don't ramble or repeat yourself unnecessarily. I subscribe to the email list of a woman whose company focuses on resources for female baby boomers, and she's a classic example of how not to do video marketing. She produces two or three videos each week—videos that are often on topics that interest me, but I rarely watch them because I don't have time. They typically run 12-18 minutes and she could probably do most of them in less than three with some planning and focus.
2. Get to the point. According to the Digital Marketing Institute, one-fifth of viewers will click away from your video in the first 10 seconds. You need to do something in the first 5-10 seconds to let them know the rest of your video is worth their time.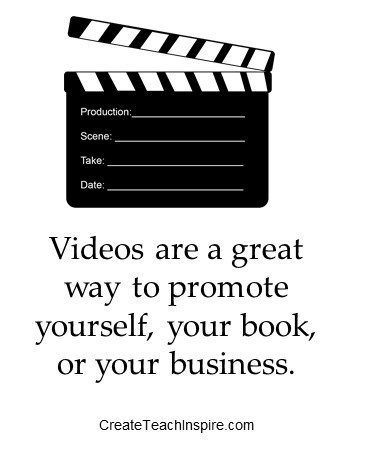 3. Keep them short. You'll have more success with a series of short videos than with fewer longer ones. Kevin McCarthy does a great job with short videos he calls On-Purpose Minutes. He chooses a narrow topic related to personal or organizational leadership, introduces it, covers it, and wraps it up in about two minutes.
4. Include a call to action. Be sure you let your viewers know what you want them to do at the end of your video.
5. Don't let the background distract your viewers. Recently I watched a series of training videos with great content, but a huge clock was right behind the speaker and I was distracted by the time—especially when the minute hand would jump ahead because something had been edited out. Choose a background that's appropriate for your content but that won't compete with you for your viewers' attention. If you're recording in your home or office, be sure there's nothing in the background that you wouldn't want the entire world to see. Finally, check how you're going to look in front of the background—make sure, for example, that you won't have a plant "growing" out of the top of your head.
6. Use visuals and motion. In a very short video, it could be enough for you to simply move your hands and change the angle of your head as you speak. You can also put text on the screen to highlight the points you're making or cut to an illustration or demonstration. Remember, video is visual—give your viewers something to see.
7. Use a script. Unless you're an expert speaker, use a script to help you cover everything you need to say without rambling or using an excessive amount of filler words (uhs, ums, and other words you tend to use when you don't know what to say). A teleprompter will let you read your script while looking into the camera.
8. Speak conversationally. Visualize a friend or family member and talk to that person. When Jerry shoots videos of our pastor, I'm usually there to assist with the production. And when the camera starts rolling, our pastor tends to start preaching—and that's not what we want in videos we're shooting to use on the church website and social media. We want him to be relaxed and look like he's having a one-to-one conversation with the viewer. I finally suggested that he visualize his daughters and pretend that he was talking to them—and when he did that, he gave his best performance.
9. Cut out your mistakes. Use a video editor to remove your flubs and misspeaks. When you say something wrong, pause for about three seconds then back up to the beginning of the sentence and do it again. Edit your mistakes out after you've finished.
10. Don't worry about going viral. In most cases, the number of views your video gets is less important than who is watching and whether they take the desired action. Focus on creating a quality video with valuable content.
If you're ready to implement a video marketing strategy, let us help with scripting and production. Contact us to set up a consultation.

Latest posts by Jacquelyn Lynn
(see all)