Adult coloring books are for more than just coloring.
When I first suggested to Jerry that we collaborate on a coloring book for adults, he thought it was a crazy idea. He hadn't heard about how popular the adult coloring book trend had become, but—good husband that he is—he was willing to humor me.
He's been pleasantly surprised at the overwhelmingly positive reaction we've had to our coloring books:
Note: Click on the titles above for more details about each coloring book.
So why do I say that these books are for more than just coloring?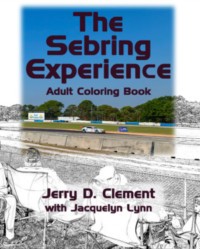 Beyond the personal benefits of coloring (reduce anxiety and stress, relax, increase focus, spark creativity, some health-related therapies, and more), there are some interesting business benefits.
Coloring Books as a Marketing Tool
Use coloring books as an innovative giveaway instead of mugs, scratchpads, calendars and similar items. How?
Buy bulk quantities of coloring books and brand them with your company information either by attaching a label or contacting the publisher to print a special run. We'd be happy to discuss customizing the cover or the inside front or back pages of any of our books to promote your product or service.
Create your own coloring book with images of your product, your people or other scenes related to your business. Use those pictures and add accompanying text to show your customers or prospects the solutions you offer. We can help you do that, as well.
Coloring Books as a Customer Service Tool
If your business is one where customers have to spend time waiting (such as attorneys, healthcare and other professional service providers, automotive service, and so on), stock your waiting room with appropriately-themed coloring books and colored pencils.
When your customers are enjoying themselves, they are less likely to be irritated at having to wait. Just be sure someone is responsible for maintaining the supplies.
Coloring Books as a Publicity Tool
There are so many ways to use coloring books to drum up publicity for your business. Joan Stewart, The Publicity Hound, lists some great ideas in her blog, "Adult Coloring Book Craze Offers Publicity Opps Galore."
Coloring books for grown-ups are a big business—and a big business tool. How could your company use them? Share in the comments below or contact us to discuss.

Latest posts by Jacquelyn Lynn
(see all)