Have you ever landed on a website and found information that's out of date or inconsistent, links that don't work or images that don't display?
Could there be pages like that on your website?
Most business websites these days reflect the rapidly-changing environment in which we operate. New content gets added and old material doesn't always get updated. That's understandable—even small companies can easily have hundreds or thousands of pages on their websites.
The solution? An annual website audit.
Don't let the word audit scare you. What we're talking about here is going through every page on your website, making sure the information is accurate, all the links work and images and text display properly. When you find issues, make the appropriate corrections.
It's tedious and time-consuming, but it's a worthwhile investment. It can be compared to those special annual freshening-up things you do for your brick-and-mortar location, like shampooing the carpets, painting or deep-cleaning.
Follow these basic steps:
Create a spreadsheet that lists all the pages and blog posts on your site. This will be your master list. There are a number of different ways to gather the information for this list; the best one for you will depend on the size and platform of your site. Once you have the spreadsheet built, keep it current by making it a habit to add new pages to it when they're posted.
The spreadsheet should include these columns:

URL (of the page or post)
Date created
Last updated
Date audited
Title
Description (meta description)
Content
Keyword(s)
Internal links
External links
You may want to add a column of status notes to record issues you need to follow up on.
The spreadsheet will keep you on track as you do the audit and help you remember where you left off.
Some points to check:
Page title. It should be unique and contain keywords, and be no longer than 65 characters.
Description. This is also known as the meta description, and it's what people see when your page comes up in search results. Use keywords in this description, but be sure you are writing for humans, not search engines. Limit content to 160 characters.
Content. Check the content for typos and grammatical errors. Be sure it's readable, interesting and accurate. Correct any errors. Review the pages for eye-appeal and appropriate images. Decide if you want to keep it as is, improve it by editing or adding information, consolidate it with another page or post, or remove it. The Conversations book Put Your Website to Work: How Lawyers, Therapists, Coaches and Other Professional Service Providers Can Turn Their Websites Into Money-making Machines offers more valuable information on content.
Keywords. Check the keywords on the page or post against your keyword strategy. Use as many keywords as possible while still writing in a natural way designed for humans—no keyword stuffing.
Internal links. Include at least two or three internal links. The goal is to keep people on your site by directing them to other pages they may find of interest. Check to see if you can add internal links to new content on your older pages and posts. Important: These internal links should be to other content-rich pages—not your home, about or contact page.
External links. Check your external links to make sure they still work and that the content on the other sites is still appropriate. If not, remove the link.
Part of your overall analysis should be to identify your most-viewed pages. What is it about the content on those pages that makes them popular and how can you best take advantage of that knowledge?
You should also be looking for content gaps. Are there important areas where your content is thin or missing altogether? If you see that, come up with a strategy to correct it.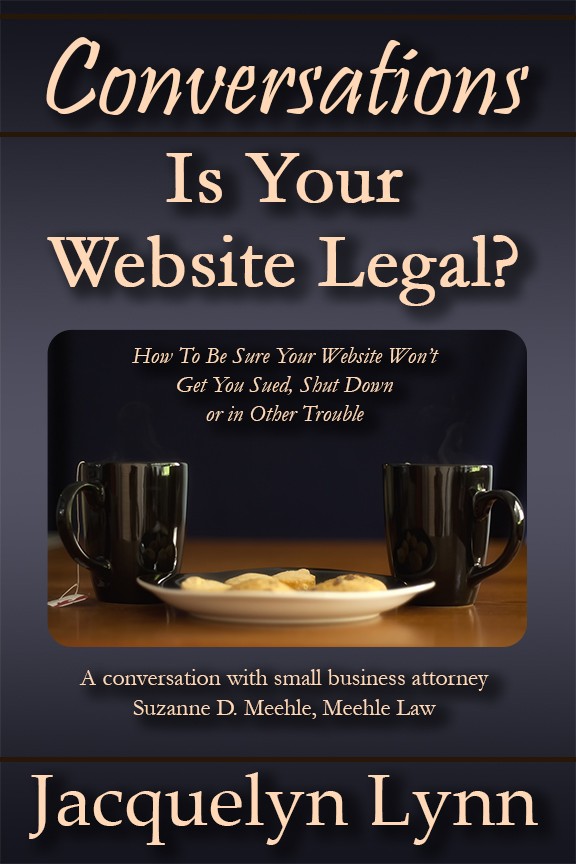 Finally, be sure you have all the appropriate legal documents, including a privacy policy and terms of use, and that they accurately reflect how you operate. For more on that, check out the Conversations book Is Your Website Legal? How To Be Sure Your Website Won't Get You Sued, Shut Down or in Other Trouble.
When you're finished with the audit, you can feel comfortable that visitors won't find anything on your site that reflects poorly on you or your company. As a bonus, you're likely to see a boost in free traffic because the search engines will recognize your work and increase your ranking.
What additional ideas and suggestions do you have about doing a website audit? Join the conversation by leaving a comment below.

Latest posts by Jacquelyn Lynn
(see all)