Your customer mailing list is one of your most valuable assets. It's the foundation of your ability to communicate with the people you've identified as customers or potential customers.
Whether you market by email, direct (snail) mail or a combination, think about this: What would it mean to your marketing plan specifically and your company overall if those files were deleted or corrupted?  
You need a system for backing up your mailing lists that will keep the data safe and confidential. And you need a system for making sure that happens on a regular basis.
For email lists
If you use an email service provider (such as MailerLite, AWeber, Constant Contact, MailChimp and so on), periodically download all the data in your list and store it in a safe place in your own system. Most email service providers make this simple to do; just check their help section for instructions.
If you have a smaller list you maintain within your email system, check with your provider to find out how to back it up.
For snail mail lists
Create a backup and store it with your other critical company information. If you use a mail house to manage your list, insist that they periodically provide you with a current file that you can keep in your own system.
Backup frequency
How often should you back up your lists? That depends on how often you make changes to the data. Small companies with stable client lists don't need to back up as often as larger operations or those that add information to their databases daily or weekly.
Establish the habit
Once you've determined how often you need to back up your mailing list data, decide who will be responsible for getting it done and how to make sure it happens as scheduled. Then hold that person accountable for this essential job responsibility.
Don't assume that because you use outside services to manage and maintain your lists that they are safe—every operation is at risk of losing data by accident or an intentional malicious act.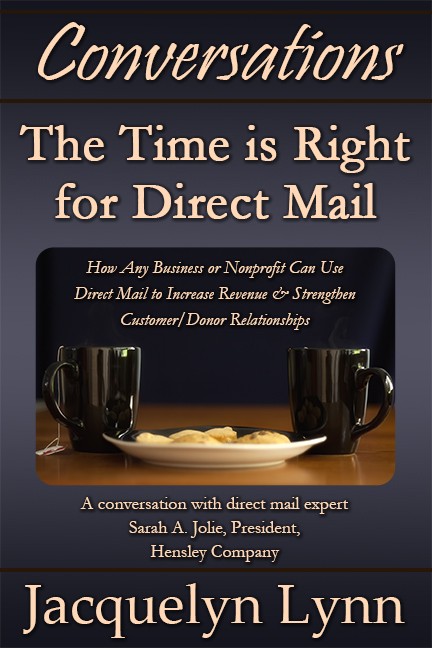 Our Conversations book, The Time Is Right for Direct Mail: How Any Business or Nonprofit Can Use Direct Mail to Increase Revenue & Strengthen Customer/Donor Relationships, discusses issues related to managing mailing lists and how to combine direct mail with your email campaigns. It's available for immediate download for just $2.99.
Click here for Kindle version
The books in our Conversations series are based on interviews with subject matter experts. Go here to see a complete list of all of our titles.
Do you have any tips for protecting your critical mailing list data? Share them below.

Latest posts by Jacquelyn Lynn
(see all)