If you have ever had a hard drive crash or a computer lost or stolen, you know the importance of real-time data backup. If you haven't, trust me—it will eventually happen, and you'll find out the hard way why you need your files backed up to the cloud.
There are several good data backup services out there. Jerry Clement researched all the ones he could find (I'm so thankful he has the patience to do that). After doing a features and cost analysis, checking reviews and endorsements, and getting recommendations from trusted sources, we decided on Backblaze.
Backblaze offers personal and business backup, as well as B2 cloud storage. Because we're a small operation (just two people working on separate PCs), the personal service level offers all the data protection we need. If you're larger with a more complex IT system, you'll want the business or B2 level.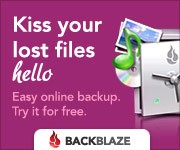 Backblaze runs automatically in the background, capturing all new and updated data and backing them up to the cloud. I was impressed by how easy it was to install and set up. It backs up files of any size, which is good for us because in addition to all our books and articles, we have photo and video files that take up a lot of digital space. All data are backed up by default—you don't have to tell it which files or folders to back up. Backblaze stores older versions of files for 30 days at no extra charge or for a year for an additional fee.
You can access your files in the cloud at any time. If you accidentally delete a file, you can get it back. Or if you're working on a different computer and you need to access your data, you can do it with Backblaze.
If you need a full restore (such as in the event of a hard drive crash or if you get a new computer and need to transfer your data), you can download your files from your Backblaze account or they'll send you a USB drive.
Back up your data before you wish you had.
Pricing starts at only $6 per month. Go here to try it for 15 days for free.
Go here for a complete list of the resources we use and recommend.

Latest posts by Jacquelyn Lynn
(see all)