What happens when your child's school receives a bomb threat?
Of course, the children are probably evacuated. But where do they go?
When I was growing up, we had fire drills. Alarm bells would clang, and we would be led by our teachers to a designated place away from the building where we would stand quietly until the all-clear was sounded. (Okay, not all of us were quiet—I was usually in trouble for talking.)
We always went to the same place.
If we got separated from our classmates, we always knew where to find them.
And the danger in that never occurred to anyone.
While some active shooter incidents are spur-of-the-moment, most attackers do at least some planning. That planning might include calling in bomb threats to the facility to see how the evacuation is handled.
If a building's occupants always go to the same place, they are predictable targets for a shooter.
Talk to the administrators at your child's school. Ask about the security and safety procedures, including if evacuation plans include a random pattern for where the students gather. If you're not satisfied with the answers, contact the local school board or whatever the next step up the chain of command is.
The lives of children may depend on it.
Equally important: Would you know what to do if you found yourself in the middle of an attack?
Not long after the Pulse nightclub shooting in Orlando, I saw a presentation on what to do to survive in an active shooting situation. Afterward, the presenter, a security and terrorism expert, agreed to sit down with me for an interview.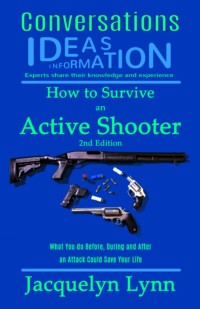 That interview became a book: How to Survive an Active Shooter: What You do Before, During and After an Attack Could Save Your Life.
We set the political rhetoric aside and focused on the reality: It could happen to you and there are things you can do to increase your chances of surviving.
Get your copy now!
Available wherever books are sold. $9.99 print; $3.99 ebook.

Latest posts by Jacquelyn Lynn
(see all)