It's easier than ever to publish your own book. And that means it's also easier than ever to make mistakes in the process.
Here are ten of the most common mistakes self-publishers make—mistakes you should avoid with your book.
1. Ineffective title. Instead of coming up with something that you think sounds great, come up with a title that will match what your audience is searching for. This is especially important in nonfiction. If you can make it catchy and clever, great. But a clever title isn't going to get you any sales if people can't find your book or can't tell what it's about.
2. Poor cover design. People really do judge a book by its cover, so make the investment in a professional cover design.
3. Poor interior design. The interior design of your book is something most readers won't notice, unless it's done wrong. A good interior designer will use professional typefaces, effective spacing, and consistent structure—and pay attention to all the little things like using dashes instead of double hyphens and "dumb quotes," which are quotation marks that are straight up-and-down instead of curling—the curled quotation marks are called "smart quotes."
4. Low-quality graphics. This applies to both your cover and interior. Image files designed for online use won't look good in print, so be sure your files are the proper resolution. And whether your graphics are photos, charts, diagrams or whatever, they need to be sharp and professional.
5. Using copyrighted material without permission. If you're using material in your book that you didn't create, you need permission from the copyright holder. This applies to both text and images. There are some exceptions that fall under the fair use provision of the copyright law. But if you're depending on that to protect you, be sure you understand it and are on solid ground. You don't want to get sued for copyright infringement.
6. Poor editing. The most common reason for bad reviews and returns is poor editing—or no editing. Even the best writers need editors. A professional editor will help you polish your writing until your book sparkles.
7. Sloppy proofreading. Before you publish your book, after you've made all your final changes, take the time to carefully and thoroughly proofread it—or hire someone to do it for you. Check for typos, style consistency and all those other errors that are so easy to miss while your book is in production but that your readers will spot instantly.
8. Poor book description. Your cover may catch someone's eye, but the book description is what makes them decide to buy. Don't shortchange yourself by writing a brilliant book and a blah description.
9. Trusting friends for feedback. Most of your friends and family members will tell you your book is great, whether it really is or not, because they don't want to hurt your feelings. It's okay to get their opinions, and certainly you should ask them for reviews, but get objective feedback for your work in progress from publishing professionals who will be honest with you.
10. Failing to create a plan. You need a business plan for your book. For more on what to include in your plan, click here to watch my video on how to create a business plan for your book.
Click here to check out the other videos in our series on how to make self-publishing work for you.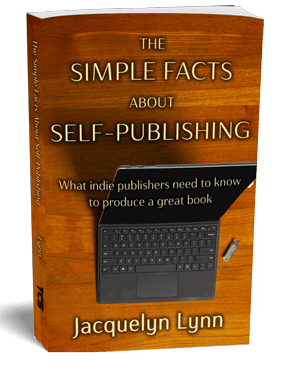 Ready to get started publishing your book? 
Get The Simple Facts About Self-Publishing first
Print: $12.99    Ebook $6.99
Available on Amazon and wherever books are sold.

Latest posts by Jacquelyn Lynn
(see all)