Three ways to keep your business purposefully innovative
"Profit for a company is like oxygen for a person. If you don't have enough of it, you are out of the game. But if you think your life is about breathing, you're really missing something." – Peter Drucker
Why does your business exist?
Hint: It's not to make a profit.
How is your business going to continue to exist into the future?
Hint: It's not by doing what you've always done, no matter how successful it's been in the past.
Krystal Parker thinks Peter Drucker's quote about profits and oxygen nails it. "Profits are to a business like breathing is to life," she says. "While breathing is essential for living, it's not the purpose of life. Profits are essential for your company to stay in business, but they're not the purpose of your business."
Parker owns a boutique consulting firm, Intent and Impact, which specializes in creating executive and board level strategies as well as developing organizational leadership programs. Parker also serves as the president of the Central Florida Christian Chamber of Commerce.
"Business must be run at a profit, else it will die. But when anyone tries to run a business solely for profit, then also the business must die, for it no longer has a reason for existence." – Henry Ford
When you know your company's reason for existence, you can develop a vision. Use that vision to guide everything you do so that you stay on track.
However, vision alone is not enough. You need to stay purposefully innovative.
How do you do that? Parker says innovation lies in three places:
Simplicity
People
Problems
Simplicity
"Complexity crushes innovation," Parker says. "As organizations grow, they usually become more complex. You have to be intentional about keeping them simple if you're going to foster an innovative environment."
Unfortunately, keeping an operation simple isn't simple. In "How to Spark Innovation in Your Business," Parker offers six ways to simplify your business.
Simplicity helps to keep your company nimble so you can respond quickly to market changes, so you can develop and implement new ideas while they are still new, and so you can stay ahead of your competitors.
People
"People determine the potential in your organization," Parker says. "I advise my clients to hire for personality and train for skill. Get good people and teach them what to do. There's gold within the people in your organization. You just have to be willing to look for it, to find it, and to help them develop it."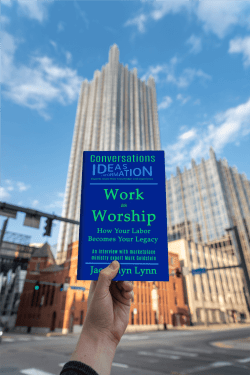 When people know they are valued, that their ideas are welcomed, and that you see their potential even when they might not, they will meet and exceed your expectations.
"Empower your people to do their job, to be problem-seers and solvers. Help them see and solve problems in your organization," Parker says. "Listen more than you talk because the answers you need are there within your organization."
If people know how to do their job, there's a good chance they know how to do those jobs better. Let them try.
"Run your business the way God runs His Kingdom," Parker says. "He doesn't call the qualified, He qualifies the called. You see that throughout the Bible—so many stories about people who were called to do great things. These people are in your organization. They have the ideas, they are filled with the gold you need to take your product, your business, your idea to the next level."
Will they make mistakes? Of course. And that leads us to the third source of innovation.
Problems
"When someone comes to me and says, 'I'm having this problem, these things just seem impossible to me,' my response is, 'Hallelujah, God's doing great work in your life,'" Parker says. "Your problems and failures are the perfect place to find innovation. But don't focus on the problem, focus on the opportunity it brings. Focus on God and how He is using the problem to move you."
Your life is probably full of examples that prove the value of this approach. How many times have you faced challenges that ultimately strengthened you and made you not only better but better off?
"If you see problems and failures as an end, you're done. If you see them as an opportunity, that's where innovation is," Parker says. "How you see problems and failures will determine your ability to experience innovation. How you see God will determine your ability to experience supernatural innovation."
The best example of supernatural innovation is the Biblical story of the loaves and fishes. Even the disciples didn't initially believe Jesus could feed 5,000 people with five loaves of bread and two fish, but He did.
"You may think you don't have the resources to solve your problems—and you might not, but do not let your 'knowledge' limit God's ability to do a great work in your situation," Parker says. "Forget about what you want, focus on what you do have, and allow God to provide you with what you need. When you do this, you'll experience supernatural innovation."
Related articles:
How to Spark Innovation in Your Business
Why Join a Christian Chamber of Commerce

Latest posts by Jacquelyn Lynn
(see all)