Imagine a platform with more than 120 million readers and no ads where you can publish whatever you want and get paid for it.
It's not a fantasy–it's Medium.
I was first introduced to this platform in 2019 by someone who asked me to write an exposé about a sleazy seminar company and publish it on Medium. I declined the writing project but began occasionally reading articles on the site.
About a year later, I watched a webinar presented by Jeff Herring and Tim Maudlin targeted to authors, promising to show them how to get paid to promote their books by publishing articles on Medium.
I bought their training—and it's been well worth the investment. (Contact me if you want to know more about it.)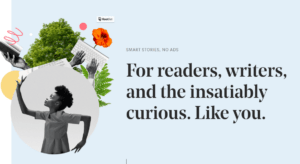 Medium was founded in 2012 by Ev Williams, who also started Blogger and Twitter. It has two levels of reader membership: free (which allows access to three articles a month) and paid ($5 a month or $50 a year for unlimited access to the site).
To publish on Medium, you just need to join at either level and start publishing.
This does not mean you can begin uploading vast quantities of self-promotional drivel. Medium has a lengthy list of content standards designed to maintain the integrity of the platform—most of which are common sense.
You get paid for what you publish on Medium by joining the Partner Program, which lets you earn money when paid members read your articles.
How much money? I've seen reports of Medium writers making thousands of dollars a month. I'm sure it happens, but it's probably rare. Hundreds a month? Likely more common, but it takes effort. Enough to cover the cost of your subscription? That's easy.
The benefits of publishing on Medium go far beyond what you can earn.
If you're a subject matter expert (author, speaker, professional service provider, coach, etc.), this is a place to share your knowledge and establish yourself as a thought leader with an audience that likely far exceeds the number of visitors you get on your own blog or website.
If you're a writer looking for readers, you can find them on Medium.
While advertising and direct sales pitches are not allowed, you can still use Medium to expand your other social media connections, build your email list, share podcasts and videos, and enhance your reputation. If you already have good content, you can repurpose it by publishing it on Medium.
To see what I'm doing on Medium, here's the link to my profile page: https://medium.com/@jacquelynlynn
Successful writing for Medium is not complicated: Create quality content and publish regularly.
If you want to publish on Medium but need help with content creation and managing your publishing schedule, let's talk. Contact me.

Latest posts by Jacquelyn Lynn
(see all)