I'm in the mood to rant …
A while back, someone I didn't know sent me a friend request on Facebook. When I get those requests, I check out the individual's profile to see who they are, what they do, what kinds of things they post and if we have any friends in common, and then I make a decision about accepting or rejecting the request.
In this case, her profile didn't share much information (understandable that I couldn't see personal details until/unless we became "friends") but we had one friend in common. I accepted the friend request.
She promptly sent me the follow private message:
I would like to take this opportunity to say you for accepting my friend request, as a gesture of thanks I would like to offer you an absolutely free facial at [name of plastic surgery and medical day spa] when this week is good for you?
She should have proofread that message, but the typos were the least of it. Beyond the issue of a virtual stranger offering a very personal service, I was absolutely certain that "absolutely free facial" would be accompanied by a high-pressure sales pitch. I ignored the message but didn't unfriend her.
Today, a little over a month later, I got this message:
I noticed I haven't heard from you, as a gesture of thanks I would still like to offer you an absolutely FREE FACIAL /FREE CONSULTATION for Aesthetic Surgery, Weight Loss or Teeth Whitening at [name of plastic surgery and medical day spa]. What day is best for you? Please message me today or call XXX-XXX-XXXX…. Specials:Have a Tummy Get Your Lipo Free 20% Off Weight Loss Program 15% Off Non-Surgical Face Lift
Seriously?
I didn't respond to the offer of a "free facial" so now she's upping the ante with another error-riddled message to see what other cosmetic procedures I might be interested in. I can't believe she's getting any results from these messages. In fact, I'm wondering if she's even a real person.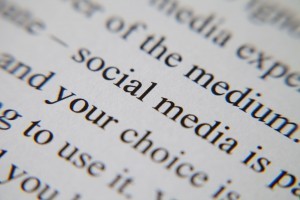 I'm not a social media expert, but I know this: It's called social media for a reason—and the reason isn't selling.
Do I promote my books and Images for Impact (our stock photography product) on social media? Of course. Usually I do it on our Facebook business pages (I have one for me and one for our company; if you'd like to follow me, my social media links are on my about me page) and then I share those posts on my personal profile. I also use Twitter and LinkedIn to announce the availability of new books and image collections and to share links to blogs and videos that we produce for marketing purposes.
But it's one thing to share news about your business on social media and altogether something else to make a direct hard sell to someone you don't know.
The old sales training fundamental that people buy from people they know, like and trust is a lesson this person needs to learn. Let people get to know you on social media so they can decide whether or not they like you then work on building trust. When they trust you, they'll buy from you–you won't have to sell them.
Okay, end of rant.
Now I need to decide if I want to share this blog post with my "friend" or just unfriend her and let it go.
Share your thoughts below.

Latest posts by Jacquelyn Lynn
(see all)